The Gardens and Collections
The James Dempsey Mansion is surrounded by lush, mature Gardens on three sides.
Interesting collections give variety to the landscape: handcrafted glazed lanterns for nostalgic evening atmosphere; Greek, Mexican, and Mediterranean urns; a bubbling marble birdbath; a classical statue of the Water Bearer centered in a circular fountain; two sundials; a diverse collection of five handcarved lions; a pair of five-lobed Victorian street lamps flanking the Maple Street walkup; and a rare pair of monumental handmade glazed ceramic pineapples (symbols of hospitality) on plinths at the Maple Street Entrance.
In 2016 we look forward to the construction of a traditional Victorian Folly, that is: a classical-ruins fantasy of columns, capitals, cornices, oculi stone windows and other architectural fragments of antique hand-sculpted stone collected from Europe and Spanish-Colonial America.
According to plans designed by noted California landscape architect Ronald Joseph Ferris, during the Summer of 2016 modifications to the design of the Gardens will heighten dramatic interest and will maximize the spectrum of seasonal colors to be displayed.
Conservatory Through Flowers
No telling what is going to pop up in the Spring. Here puffy purple heads add natural geometry to the garden.
Ethnic pottery and Soft Lanterns
Collections of various kinds ornament the grounds and the gardens. Here Itzmo high-fire pots and glazed tin lanterns complement each other.
Baroque Stone Lion
Meant to frighten ne'er-do-wells, lion stone grotesques allow the sculptor's imagination play room. In this one (of a collection of five) note that hands replace front paws, and a little dental work could be useful.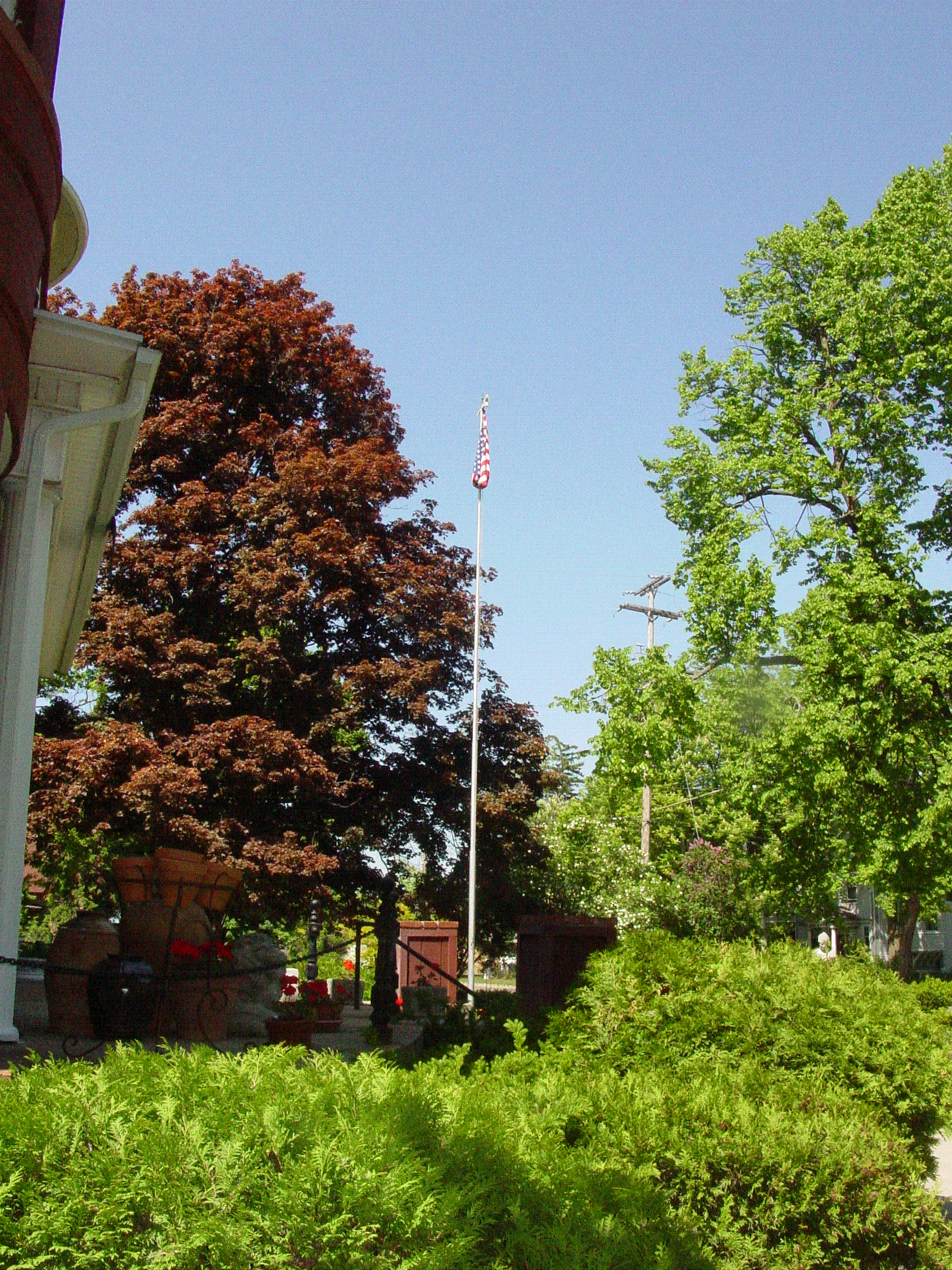 Old Glory and Old Trees
Being sited on the highest hill in town gives Dempsey Manor the advantage of having the tallest flagpole in town. It does have competition though -- it is surrounded by tall stately trees planted a century ago.
Lawns
Share a bench or a blanket with a buddy – lawns are meant to be experienced and enjoyed. Their deep healthy green cools the spirit on the warmest days. Nobody here will scold you if you take off your shoes.
Bubbles and Birds
A marble master bath. Haven't you dreamed of one at sometime? We felt our resident feathered friends deserved nothing less here at Dempsey Manor since their plumage and their songs give our Guests such pleasure.